Individual school Transporation
Individual School Taxi Transporation
To make it possible for students who live a little further away to visit the iDSB without any complications, we cooperate with the company Taxi-Walter Zaventem. As the only transport partner of the iDSB, Taxi Walter offers individual school transport for our students.
The transport contract is made directly between Taxi Walter and the parents. Payments are made directly to the taxi company.
Taxi Walter will drive your children, either alone or in groups of children aged 6 years and above. Children below the age of 6 years must be accompanied by an older sibling. The company's vehicles are either Mercedes Vito or Viano (max. 7-8 seats). The limited number of seats per vehicle means that only small regions can be covered, which in turn reduces the driving time for the children. The children are usually picked up at the front door or at a central place for groups of 5 pupils or more.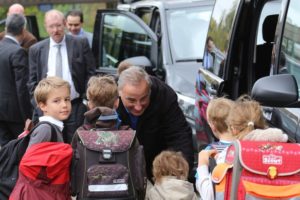 Once they arrive at school, the kindergarten and primary school pupils gather at the lawn in front of the secondary school under supervision from 7:45 a.m. They are then guided to the primary school building. For the pick up our KiBi and primary school children gather in the amphitheatre of the primary school and are accompanied to the taxis.
Mr Patrick Charels is personally available to answer any questions.
Patrick Charels
Company Taxi-Walter Zaventem
+32 2 720 10 00
patrick.charels@taxizaventem.be
All the company's employees, including the drivers, speak English, French, and Dutch. Registration and payment is done directly with Taxi-Walter.
Here you can find the registration form and the general terms and conditions:
---
Downloads