Languages
German as a second language at the bilingual Day Care Center
As a German school abroad, our school thrives especially on the linguistic diversity that our families bring with them. Children who grow up bilingual or multilingual attend the iDSB; children from German-speaking families who have previously attended school systems in other languages; and children who come into contact with the german language for the first time at our school. This wealth of languages is an enrichment for our school, and we pick up each child where he or she is at in his or her language development.
During their kindergarten years, children still learn a language unconsciously and through playing. Our program for German as a second language builds on this: After a well-founded determination of the current language level, the children are intensively supported in small groups with the proven material from the project "German for the Start of School" (http://deutsch-fuer-den-schulstart.de) and have a lot of fun acquiring the German language. We promote speaking skills in a playful way in the areas of vocabulary, grammar, text competence and phonological awareness.
According to the needs of the children, we recommend a free two-hour or a paid several-hour support for your child, which is integrated into the daily preschool routine. Our teachers are trained continuously, accompanied scientifically and teach according to modern language support concepts.
In our Parents' Reader you will find tips and advices on how you as parents can support your children in learning German, even if you may not be a German native speaker.
---
We speak in many languages
As a bilingual kindergarten with preschool of a German school abroad, we live and teach the German language and culture. In bilingual classes, children whose native language is German learn together with children of other languages. In this way, they playfully learn how to deal with a second language and culture in a language bath. Pedagogically, we follow the Thuringian educational plan, which focuses on early systematic promotion of general and linguistic development.
Language enables understanding and appreciation
We greet each other with a morning song
We tell stories
We read books
We learn poems, rhymes and finger games
We sing and play with words
We paint, do craftwork and research
We go on excursions
We play role games
We experience rituals
We express our feelings
We are creative with words
… and all this in German, French or English!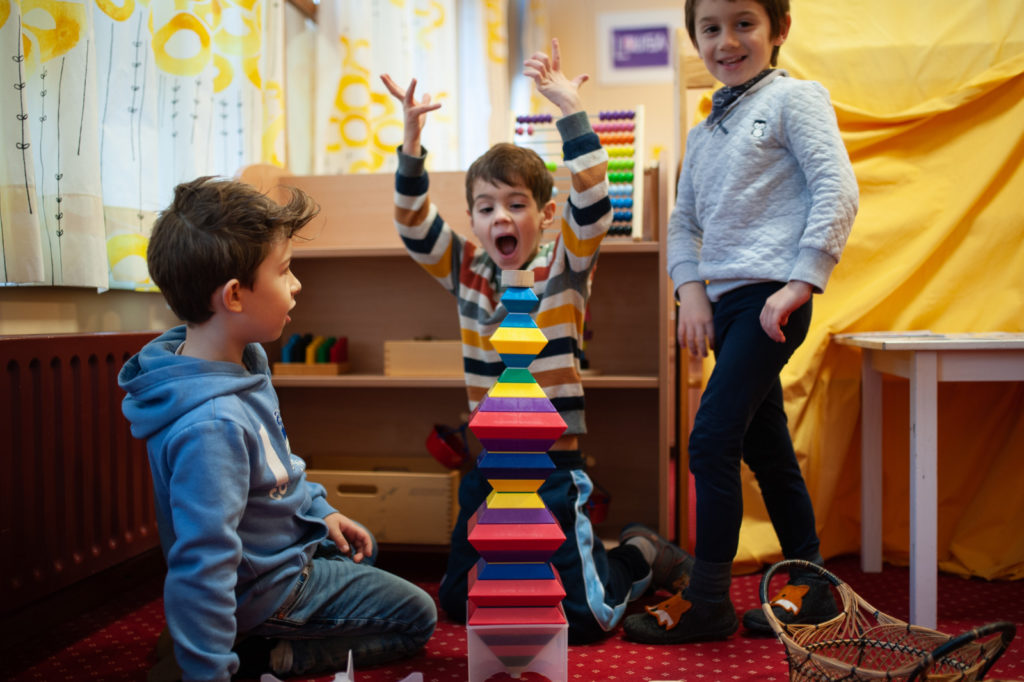 The preschool program also includes regular visits to the elementary school library. With an exciting experiential introduction and weekly readings, our "big kids" are beginning to perceive the library as a special place they enjoy returning to.
If you have any questions, please also feel free to contact:
Marion Montgomery
stellvertretende KiBi-Leiterin
Marion.Montgomery@idsb.eu
Laura Wolff
DaZ-Fachbereichsleiterin Grundschule
Laura.Wolff@idsb.eu
Für Fragen rund um die Aufnahme an der iDSB wenden Sie sich bitte an
Schüleraufnahme
+32 (2) 785 01 35
aufnahme@idsb.eu