Music
Music at iDSB
Our popular whole-school concert events at Christmas and in the summer are an integral part of school life, alongside major performances such as the student musicals. In addition, the iDSB is the official venue for the renowned "Jugend Musiziert" competition.

The musical focus in the AG area is on singing. Currently, about 120 students sing in our school choirs. Those who wish can also demonstrate their musical talent in small singing ensembles, the school band or our chamber orchestra.
We are happy to help arrange private instrumental and vocal teachers to teach in our rooms.
Big Fish in school year 2022/2023
After almost a year of rehearsals, the time had come in July: around 70 pupils were on stage. In two sold-out performances, the musical ensemble and the school band played, danced and sang the musical "Big Fish" and were rewarded with a standing ovation. A great experience for our students and the enthusiastic audience.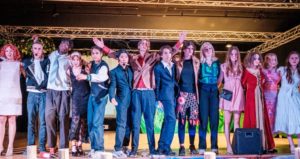 ---
iDSB participation in the "Jugend musiziert" national competition in Oslo
---