Social Skills
We learn from eachother
Living democracy from the very beginning. In our school, children are supported in democratic interaction with each other in a variety of ways. In the weekly class council, the teachers are equal members, speak to the students at eye level, and model democratic behavior for them.
In meetings, the students deliberate, discuss and decide on topics of their own choice: on the design and organization of learning and living together in class and school, on current problems and conflicts, on joint planning and activities. Depending on the age level, the topics, organization and duration of the meetings are adapted.
The topics from the class council are brought to their meetings by the class representatives as needed or presented directly at the school assembly for the elementary school, which takes place every six weeks.
In the class representative meetings, the representatives talk about the wishes and needs of individual classes, but also how they can actively shape school life. One highlight is the elementary school kiosk, which takes place two times
In addition to this, the children also prepare the keynote programs for the school assembly and present exciting projects from school life in an impressive way to the school community in the amphitheater or in the auditorium.
The school assembly is held every six weeks with all students and teachers in 1st through 4th grade and 5th through 12th grade. The goal is to get everyone involved in what is going on at school, to take responsibility for themselves and the community, to recognize students' accomplishments, and to build their self-confidence by speaking in front of a large group. School members will also experience greater cohesion and work together as a unit.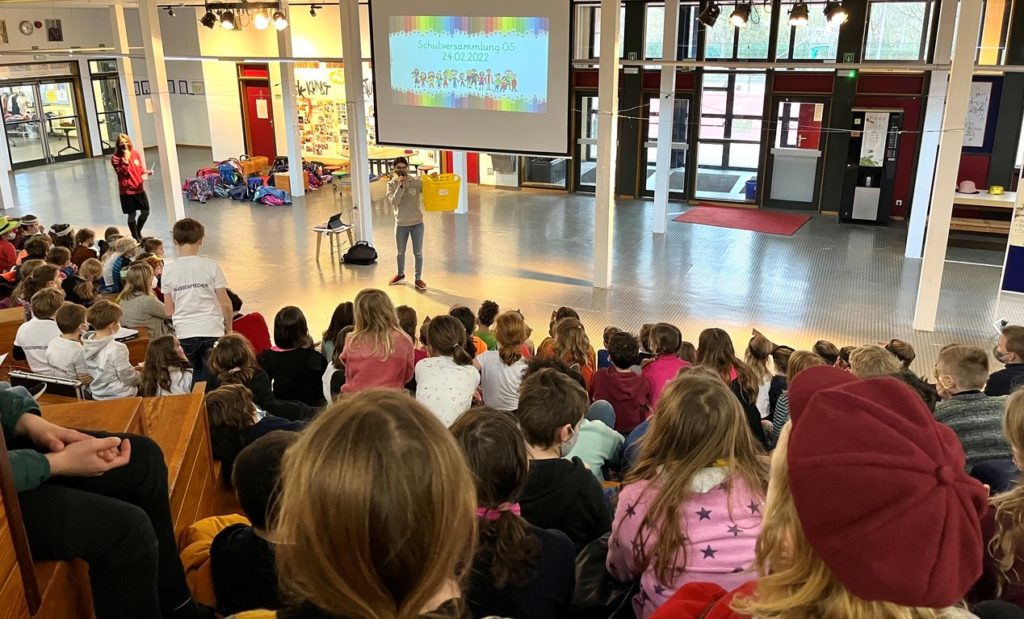 ---
Learning with targets
The learning success of your child is not left to chance!
For your child…
we offer reliable and proven competency-based curricula with orientation to the Thuringian Education Plan, which ensures a high standard of quality for many German schools abroad.
we ensure easy transitions to German schools and other educational systems by offering the classic subjects: German, mathematics, subject matter, English or French, art, music, physical education
our timetable offers extended activities: Learning workshops, class council lessons, handicraft lessons, religion or ethics lessons, school assemblies, moving and relaxed breaks.
we provide the opportunity for multilingualism by offering a choice of four hours of English or French starting in grade 1.
we provide knowledge, skills, key qualifications and learning strategies that every student needs for successful and increasingly independent learning.
we enable individual support through targeted differentiation of learning opportunities with the help of a wide variety of methods, open teaching and project-oriented forms of work, guided learning and presentations.
we support the development of German language skills in a variety of ways, if necessary with intensive support offers within our language support concept German as a second language.
we offer a comprehensive, diverse, attractive and open all-day program.
we offer age-appropriate access to the meaningful and reflective use of digital media, which we use in a targeted manner to complement our broad repertoire of learning methods.
---
Certified " Outstanding German School Abroad"
The iDSB is part of the worldwide quality network of German schools abroad and operates within the quality framework of the federal and state governments. We were a pilot school of the first federal-state inspection for German schools abroad and received the certificate "Outstanding German School Abroad" both in 2008 and in the follow-up inspections in 2014 and 2022.