Bistro and cafeteria
Fit and healthy through the school day: cafeteria and canteen
A school day can often be long and exhausting. Therefore, it is more important to have the right refreshments in between. In the cafeteria and canteen of the iDSB, our students can get something healthy to eat when they are hungry.
Our canteen
The iDSB canteen is housed in a bright, colourful room in the secondary school and can accommodate around 100 children. We cooperate with AGAPE, a non-profit organisation of the Flemish government. This caterer prepares high-quality meals for numerous crèches and kindergartens, schools and universities in Flanders.
The meals in our cafeteria are characterised by:
Local origin of ingredients
Use of seasonal products
Low-fat and carefully prepared dishes
Balanced and divers menus
Vegetarian menus and fish meals
Strict control of suppliers and compliance with the cold chain
You can find the current menu plan in our download area.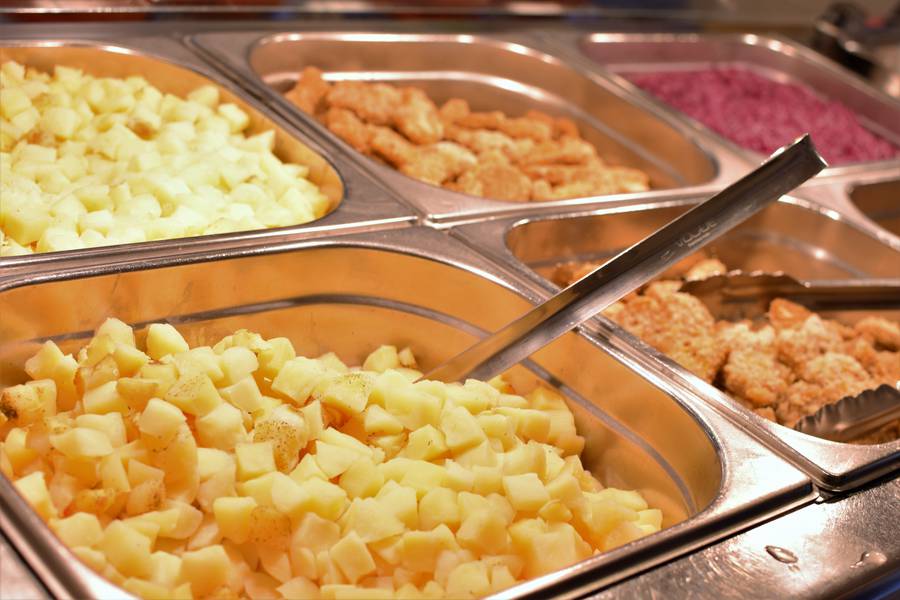 The canteen is open to our KiBi and primary school children as well as to the pupils of the secondary school and is becoming increasingly popular.
The KiBi and primary school children eat their warm lunch under the supervision of pedagogical staff and are looked after in each group in German, English or French.
From grade 5 onwards, registration is anymore required, so that our secondary school students can spontaneously decide whether to have a warm meal in the canteen or to get something to eat in the cafeteria. In the warmer months, the cafeteria also offers various salad buffets.
The iDSB cafeteria
Under the slogan "Healthier School", the cafeteria offers a daily varying selection of:
freshly pressed orange juice in the autumn and winter season
fruits & smoothies
cereals and yoghurt
wraps, salads and vegetable snacks
warm snacks
homemade pasta and potato salads
fresh baguettes
Culinary novelties from Belgium and Germany are added to the offer: vegan vegetable snacks, hot apple punch or gluten-free bars – there is something for everyone! 
Every second Wednesday of the month, vegetarian treats are on the bistro's menu.
During the first and second break as well as during the lunch break, the students can buy their own food and pay cashless with their iDSB card.